Mark Coates is a Kinesiology graduate from SFU that has an incredible passion for adventure sport, travel,  and challenging others to share the experience. He is a 16 year veteran of the personal training/endurance sport coaching business, and he is the co-owner and founder of Basecamp Fitness in Whistler, B.C. with his partner in crime Rebecca Warren.  During his tenure in the industry Mark has led countless customers to personal finish lines all over the globe. He has successfully completed and coached others for ultra marathons, mountain bike races and multi day events, road cycling events, single and multi day adventure races, triathlons, trekking adventures, and Nordic ski events. Some of his more notable accomplishments include the Rock and Ice Ultra in the arctic, the Del Sahara 100 km, BC Bike Race and the Transrockies mountain bike race, the Canadian Ski Marathon as well as numerous North Face Endurance Challenge trail ultras. Over the years Mark has had the opportunity to work with numerous professional athletes some of which include Marcus Naslund, Todd Bertuzzi, Christine Fletcher, Rebecca Marino, and Lindsay Bernekavitch. To this day Mark is still all about sharing real world success stories and experiences to demonstrate that it is all about ordinary people accomplishing extraordinary things.
" I feel incredibly lucky to be able to merge my passions and my skill set. As a coach and an aspiring athlete I am true believer of the destination based approach to fitness. Every new physical adventure is truly a personal growth journey. This is a lifestyle changing experience. This is my mantra – I am constantly searching for exciting new physical challenges and leading others down the same path with the intent of inspiring others to discover their own personal transformation. At the end of the day it is not about the finishing times, but rather how we can positively impact the lives of as many people as possible."
The biggest struggle that people have with health and fitness is the concept of sustainability – the majority of programs and service offerings out there today do not provide a longevity based model for exercise. Human nature dictates that we will always gravitate towards the coolest new trend, or what appears to be the quickest solution to that version of ourselves that we are seeking.  We are going to show you a different perspective – one that will make fitness a lifestyle changing experience and a life long journey. Our secret to success is physical empowerment – because you can change your life forever...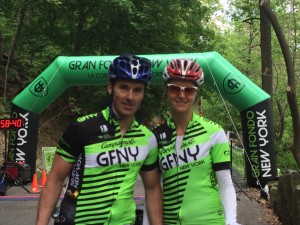 Basecamp Fitness Owners & Founders – Mark Coates & Rebecca Warren
Rebecca Warren is the co-owner of Basecamp Fitness and a 8 year veteran of the personal training industry. She is BCRPA and FMS certified, and she has her 250 hour Yoga Alliance teacher training with the Yoga College of India. Rebecca is our resident mobility specialist, and she is currently working towards her Precision Nutrition certification so that we can build out a new arm of the business to support our customers better. Over the years she has competed in, coached people for, and led customers to many international and local destinations. Some her most memorable moments include the New York and Las Vegas centuries, the Penticton Gran Fondo, and the Vancouver BMO marathon. She is the head of our cycling development program and she has an insatiable passion for road biking, Around here she is known as "the  machine" – a reputation earned with many miles in the legs.  She also brings another skill set to the team. Rebecca is an IGOLU certified leader- something that we have been busy integrating into our human resources development with the sole interest of helping our team to thrive and to establish themselves as inspirational leaders! She is also the head of our active health retreat  and training camp coordinator for our business.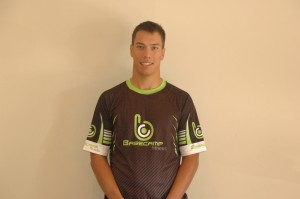 JP Fok has been with the team for the past 2 years, and he has 5 years experience in the personal training industry split between here and Kelowna.  He is a UBC Kelowna BHKin graduate and a level 1 & 2 FMS certified coach. JP also currently holds many certifications in our field – CSEP- CPT, NCCP A & B, and NSCA- CSCS. During the winter months JP splits his time between our studio and the mountain where he also works as snowboard coach and level 3 instructor. Since coming on board JP has tackled some pretty memorable challenges with Basecamp Fitness customers – the Zion Gran Fondo, the Las Vegas Half marathon, and the Nimby 50 to name a few. He has a passion for mountain biking,  road biking, and snowboarding,  and he is always looking to share the experience with others.  JP is always willing to put himself out there and to challenge himself with new physical exploits – a true reflection of the Basecamp Fitness spirit!