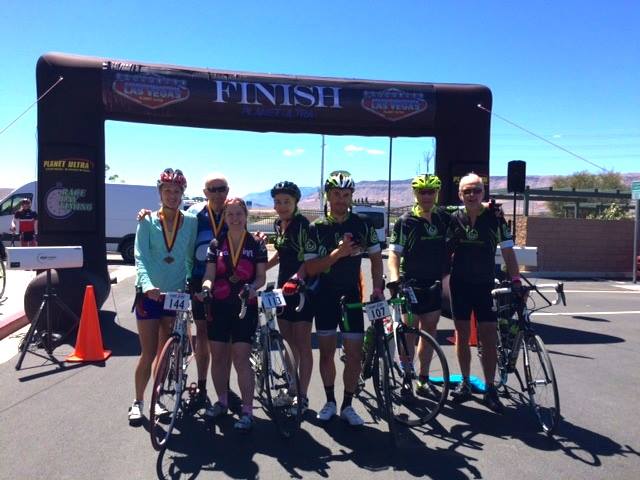 Basecamp Fitness Conquers first International Destination of 2016
Team Basecamp Fitness successfully conquers the Las Vegas Gran Fondo April 03rd 2016. The girls took 1st, 2nd and 3rd female spots on the podium for the 70 miles course
Despite last minute changes to the course due to serious highway construction on the 160 the team rose to the occasion. You may not think of Vegas as a road biking destination but it is top notch. This course featured two laps through the scenic Red Rock canyon yielding 5,000ft of climbing over 70 miles!  The vistas at the top of the climb are stunning and it is a roller coaster ride through the park. We brought the team back here because we felt the route and the weather are stunning enough for this to be a spring classic. Plus Planet Ultra puts on a fantastically supported little event for $65 – you cannot beat the bang for your buck here!
The race starts and finishes at Las Vegas Cyclery in the modern up and coming suburb of Summerlin. Be sure to stay next door at the Element by Westin – you can literally roll out of the lobby to the start line in 1 minute. It is a great little luxury modern hotel as well with some impressive green initiatives. Of course when you are done go and celebrate in true Vegas style on the strip.
As an added bonus we arrived a few days early to warm up the legs on the impressive 40 mile River Mountains Loop Trail over at Lake Las Vegas and Lake Mead. If you have mot heard of this area make the time for it! This paved bike and pedestrian only path is a treat! Roughly 4-5000 ft of climbing depending on which way you ride the loop with lots of punchy hills. This year we war fortunate enough to catch some desert cactus blooms – apparently a 1:100 year experience. Be sure to make time to enjoy some peace and quiet out at Lake LAs Vegas – the Westin is fantastic and a great place for families to go.
What our customers are saying about this destination experience
"The quality of the road biking here caught me by surprise! I never knew there were such beautiful rides and this level of variety so close to the party capital of the world. This is a must do trip. "
Basecamp Fitness rates this Destination as an 8.75/10 with the Lake Las Vegas ride. Put it on your list!